SW Aviator Magazine is available in print free at FBOs and aviation-related businesses throughout the Southwest or by subscription.




The web's most comprehensive database of Southwest area aviation events.




Featured Site:

A continuosly changing collection of links to our favorite aviation related web sites.




Search by:


Or enter a keword:


Post a FREE Classified Ad



Solo's Restaurant
Boeing KC-97 Stratotanker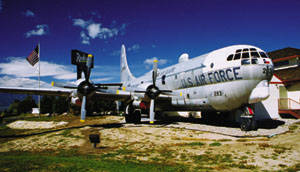 The Boeing KC-97 is the refueling tanker version of the C-97 Stratofreighter, a 74-ton multi-purpose airplane combining both transport and aerial refueling tanker capabilities. The Strategic Air Command, the Military Air Transport Service, and the Air National Guard flew this aircraft during the 1950's through the 1970's.

In 1942, Boeing began development of a freight-carrying airplane able to match the B-29 in speed, range, and ruggedness. They utilized a number of the B-29's components, including wings, empennage, engines, and landing gear. The diameter of the B-29 fuselage, however, was not large enough for the proposed missions. Boeing engineers met the challenge with what became known as the double-bubble cross-section. The lower section retained the B-29 fuselage – with cargo compartments instead of bomb bays - while the 11-foot wide upper section boasted huge rear "clam shell" loading doors. The resulting 6,140 cubic feet of usable cargo space was more than double the volume of any other transport at the time.


The US Army Air Force awarded Boeing a contract in 1943, and the Boeing designated XC-97 made its maiden flight in November 1944. By 1949, the first of 44 C-97A production models had taken to the air. With the outbreak of war in Korea in 1950, large orders for B-47 and B-52 jet bombers created a need for a large number of inflight refueling tankers. Boeing fitted the C-97 airframe with a flying boom, which, along with the controls and operator station, were assembled as a single pod and attached beneath the Stratofreighter's fuselage in the space normally occupied by the loading doors.

Although the KC-97 was successful as a refueler, its coupling with faster jet aircraft proved problematic. The refueling connection was made at high altitude and then the bomber and tanker "tobogganed" together in a descent, enabling the tanker to maintain enough speed. Eventually the KC-97L was fitted with two supplemental General Electric J47-GE-23 turbojet engines, enabling it to maintain speed during refueling operations.

Beginning in 1957, the KC-97 was replaced by the all jet-powered KC-135A. The last Air Force KC-97 was retired in 1973. A large number, however, remained in use by the Air National Guard until the late 70s. Of the 888 C-97s and KC-97s delivered between 1949 and 1956, only two remain flying today; one C-97 operated as a privately owned warbird, and one KC-97 operated as a firebomber.


Specifications (KC-97G):
Engines: Four 3,500-hp Pratt & Whitney
R-4360-59B 28-cylinder radial piston
Weight: Empty 82,500 lbs.,
Max Takeoff 175,000 lbs.
Wing Span: 141 ft., 3 in.
Length: 110 ft. 4 in.
Height: 38 ft. 3 in.

Performance:
Maximum Speed: 375 mph
Cruise Speed: 300 mph
Ceiling: 30,200 ft.
Range: 4,300 miles


Read about Solo's Restaurant

The material in this publication is for advisory information only and should not be relied upon for navigation, maintenance or flight techniques. SW Regional Publications and the staff neither assume any responsibility for the accuracy of this publication's content nor any liability arising fom it